The project sidebar helps with organizing all of the documents in your project. You, collaborators, and public viewers can navigate through your project's content in variety of ways.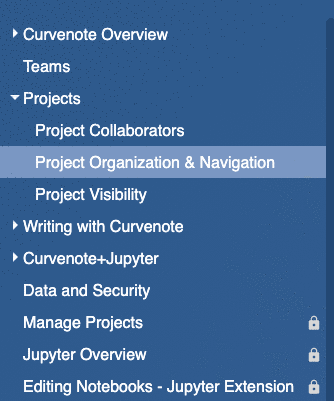 Organizing Project Content
¶
You can control the order of your project content. To do this:
Access your project
In the blue navigation panel to the left of your screen select, drag, and drop your article or notebook where you want it
Content can be ordered and or nested by dragging it up and down or left to right
Navigating Project Content
¶
Your project navigation panel view will vary depending on the project visibility settings and your status as a collaborator or public viewer. Content with a lock 🔒 next to it is not displayed to the public in the navigation panel. Learn more ➡️ Project Visibility; Managing Collaborators.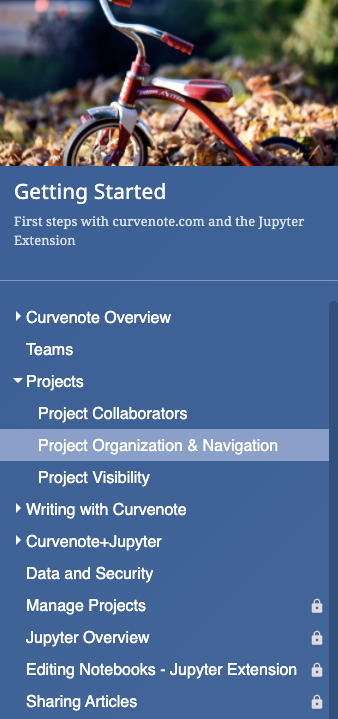 Navigation Groups
¶
You can add groups to your content by clicking on the + button at the bottom of the navigation bar.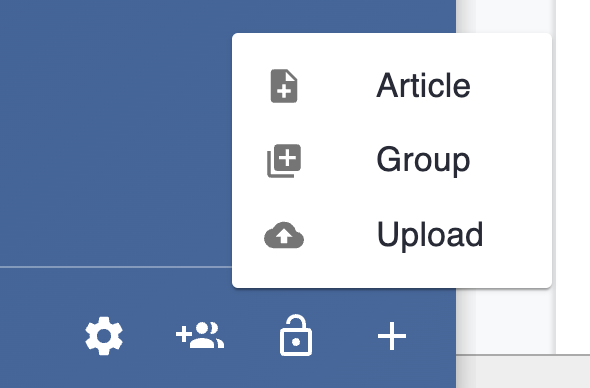 Quickly Create an Article
¶
When you hover over a navigation item, a shortcut is shown to create a new article directly underneath an existing navigation item or edit the settings of that document. If the item is a group, then you will be able to edit the group title or delete the group through the edit modal.